Franco & Vinny's Pizza Shack (Fort Lauderdale)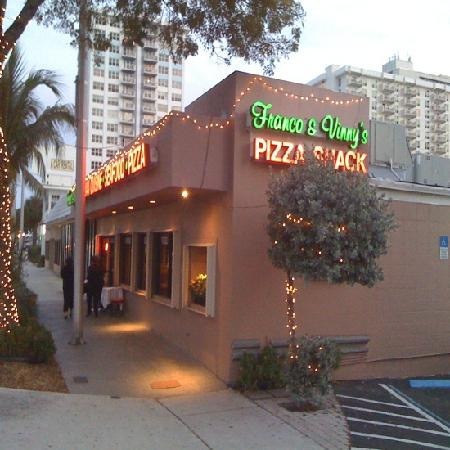 ***** Franco & Vinny's Pizza Shack, 2884 East Sunrise Boulevard, Fort Lauderdale, Florida 33304, (954) 565-6000.
Now I'm not 100% sure here, but if you go to Webster's Dictionary–and look up "mom & pop red sauce Italian joint" you'll find Franco & Vinny's Pizza Shack in Fort Lauderdale listed.
Not going to mince words here, I absolutely loved this joint. Tried it out the other night for dinner…and Franco & Vinny's is firing on all cylinders. At this stage of this game, you can check menu/prices at www.francoandvinnys.com.
Now nothing for nothing–we aren't talking gourmet/fancy schmanzy Italian stuff here. We are talking pizzas, pastas, garlic rolls, subs, loads of napkins and more Coca Cola than any normal human should consume at any given time.
Just for the record, on my "outing" there were eight of us…tried– large plain pizza, veal parmigiana, chicken marsala, shrimp scampi, chicken cacciatore, clams & mussels/linguini/red sauce, fried calamari, meat lasagna, baked clams oregenata, eggplant parmigiana—like I said a few seconds ago, Franco & Vinny's was firing on all cylinders.
Neighborhood pizza joint prices & service.
I am telling you, if "red sauce" joints are your game, you will absolutely-positively love Franco & Vinny's. Now for sure, some dishes were better than others, but the pluses and minuses are too small to even be concerned with. If I got one bitch, I personally like chicken cacciatore to be on the bone and Franco & Johnny's uses boneless white meat–but the garlic bread with cheese is worth the price of admission alone.
Franco & Vinny's is open 7 days a week 4pm-11pm.