Tamiami Subs (Miami)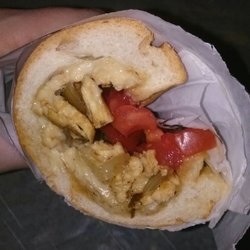 ***** Tamiami Subs, 14261 Southwest 120th Street, Miami, Florida 33186, (305) 752-4949.
Look! I have never met a hamburger, slice of pizza, donut or for that matter a sub–that I didn't like. That being said, there are definitely degrees of "like"–with some likes bordering on "love."
With the above scale in mind:
(1) I loved–loved the garlic steak.
(2) I loved the honey mustard chicken sub.
(2) I really liked the bacon cheeseburger sub.
(3) I liked the pastrami sub.
You regular readers know that I've been in more "sub" joints than my waist cares to remember. Awhile ago, one of you guys asked me to "rate" in order–my favorites. Like I wrote then, that's really impossible, because this food tasting gig often becomes a big blur-and it's hard to pick (and minutely differentiate) one particular chicken salad from another. Let me just say, I ain't gonna forget that garlic steak sub—delicious sliced steak, great bread and a garlic sauce that was sensational-and the fact, that I don't recall another sub joint that makes this sub.
You can check menu/prices at www.tamiamisubs.com.
Tamiami Subs is open Monday-Friday 10am-7pm, Saturday 10am-5pm, closed on Sunday.