***** The Paramount Days In Coral Springs ***** Joey Dale & The Gigolos *****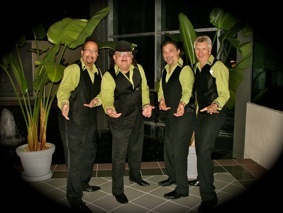 ***** The Paramount Days In Coral Springs
***** Joey Dale & The Gigolos *****
If you are a fan of 1950s-1960s Doo Wop/Rock N Roll—I got something that might be right up your alley.
On Friday Night- March 2, 2012 at the Coral Springs Center For The Arts—five legendary doo wop/rock n roll groups, The Passions, The Flamingos, Larry Chance & The Earls, The Coasters and The Skyliners will perform their greatest hits.
You regular readers know that I am a huge fan of this type of music. For the record, in recent years, I have seen all 5 groups perform and I gotta tell you, they sound as good as they did when they were first hitting the charts. These aren't tribute-acts…The Passions, The Flamingos, The Skyliners and The Earls are all fronted by their original lead singers. The Coasters are the "heirs" to original lead singer Carl Gardner who passed in June 2011—the current lineup was assembled by Carl and his wife Veta–she is scheduled to attend the Coral Springs' show.
Now for the kicker–This particular show is being produced by Joey Dale. Many of you guys may know "of" Joey–as he is the leader of Joey Dale & The Gigolos…a local-quartet that for years has appeared at numerous condos, country clubs, parties, concerts and restaurants in South Florida. Joey & The Gigolos is also on the Coral Springs' bill–scheduled to perform a tribute to one of the greatest groups of all-time The Duprees. For the record, Joey is no novice when it comes to producing and performing at large public shows. In 2011, Joey produced and performed at a SRO- FAU doo wop concert that headlined Herb Cox & The Cleftones…most recently, I saw him in action as musical director for The Passions and Kenny Vance & The Planotones at The Parker Playhouse.
A drop more- on Joey & The Gigolos…Over the years, I must have seen Joey and his group something like 15 times. Simply put, this is one of the best 1950's-1970's cover-groups in the area. These guys do sensational "versions" of Dion & The Belmonts, The Duprees, The Miracles, The Crests, Johnny Maestro & The Brooklyn Bridge, The Temptations–just to name a few. Like I said a few seconds ago, they appear all over South Florida—do yourself a big favor and check Joey's site www.joeydale.com…great video/audio and a full list of upcoming public and private appearances. No! I'm not Joey's brother or cousin—but the guy has a huge following, puts on a great show–so if opportunity knocks, catch the group in action.
On March 2, 2012 a fantastic doo-wop/rock n roll show is scheduled for the Coral Springs Center For The Arts–you can get tickets at www.coralspringscenterforthearts.com.
End of Story