***** The Sensations–The Motown Philly Express *****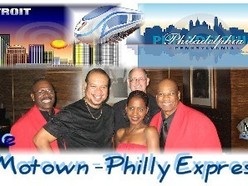 ***** The Sensations-The Motown Philly Express *****
Last Saturday night, I saw an absolutely terrific "singing" group in action…The Sensations-The Motown Philly Express.
This local South Florida group, lead by Frank Wilson and Ron Jonas is a 4-man group which will have you believing that The Temptations. The Four Tops and other Motown legends are in the house. The performance that I saw, featured fantastic vocals and terrific dance routines. The group also 'covers' groups like The Drifters, The Coasters, The Miracles, The Platters–just to name a few. They did a version of Smokey Robinson's "Ooo Baby Baby" that was so dead on, that many in the crowd thought that the original recording was being played.
As I mentioned a few seconds ago, The Sensations- The Motown Philly Express is a local group. Sometimes they use tracks, other times they perform with a back-up band…every so often, the individual members (Frank Wilson, Ron Jonas, Mel Williams, Rob Cox) play local restaurants, clubs and country clubs. For example, Frank Wilson can be found most Thursday nights 9pm-1am at City Pub in Deerfield Beach.
Trust me on this one, the group that I saw last Saturday night had the crowd going nuts.
So…if this kind of music is your style—keep a close eye on newspaper ads…that's the best way to keep track of the numerous appearances that these guys make.