Spot Coffee (Delray Beach)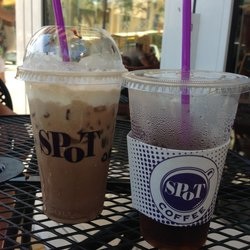 ***** Spot Coffee, 44 East Atlantic Avenue, Delray Beach, Florida 33444, (561) 455-4041.
Spot Coffee (for a point of reference, think Starbuck's) is a small-chain…Delray Beach, Florida– Buffalo (3), New York–Williamsville, New York (wherever the hell that is?)–Rochester, New York– Toronto, Ontario.
Now, I'm not exactly sure as to who likes these kinda joints…Generation X or is it Generation Y–what I do know, is that nothing and nobody is ever going to beat Chock Full O' Nuts' lunch counters circa 1960 with their $.10 coffee, whole-wheat-donuts and nut-and-cream-cheese sandwiches—However…
If you are a member of Generation X, Generation Y or like Mrs. Jeff Eats someone who doesn't dwell on the past—you will absolutely love Spot Coffee's coffees, breakfast items, pizzas, sandwiches, salads. Today- at the Delray joint had an ice coffee that was perfectly made, a grilled cheese on focaccia bread and a belgian waffle that almost made me forget about Chock Full O'Nuts' stuff.
You can check www.spotcoffee.com for menu/prices.