Blue Bell Creameries
* Blue Bell Creameries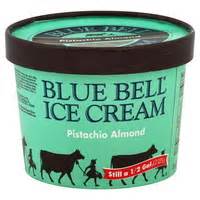 Having eaten in- my fair share of Chinese Restaurants since my 1949 Brooklyn birth–I can unequivocally say, that I am an expert on pistachio ice cream.
If you want to eat an amazingly delicious pistachio ice cream–then you gotta try the one that Blue Bell Creameries makes. I get mine at Publix and it's usually something like $6.98 for a 1/2 gallon. If you play your cards right, every so often, Publix runs a 2–1/2 gallons for $9.
For more information on Blue Bell Creameries which has been around since 1907—www.bluebell.com.