Tabitha's Bistro (Davie)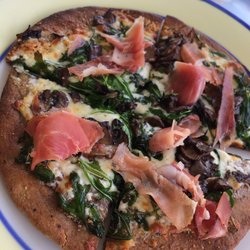 ***** Tabitha's Bistro, 5511 South University Drive, Davie, Florida 33328, (954) 252-1551.
Got a really-good "mom & pop" lunch-dinner joint for you…Tabitha's Bistro in Davie. Handful of tables indside, couple outside.
You can check the menu/prices of pita melts, sandwiches, salads, wraps, panini at www.tabithasbistro.com.
Now, I could get real cute here and start yapping about Tabitha-daughter of Samantha and Darren, but I won't. You tv show-"experts" know where I could have gone with that whole thing.
Anyway…tried Tabitha's out for lunch and I gotta tell you that I was impressed…this little strip center hole in the wall- makes some dynamite stuff. Tried– turkey meatball pita melt, grilled chicken breast caesar wrap, grilled eggplant panini–like I intimated two seconds ago, really delicious. If I got one bitch, the menu is kinda limited (not a single burger in sight), but if "this" old reincarnated truck driver made it through, most of you guys will too.
Now, don't start bombarding me with "sexist" comments, but you ladies out there are gonna love this joint.
Tabitha's Bistro is open Monday 11am-4pm, Tuesday-Saturady 11am-8pm, closed on Sunday.