Pellegrino's Ristorante (Boca Raton)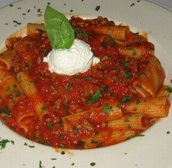 ***** Pellegrino's Ristorante, 3360 North Federal Highway, Boca Raton, Florida 33431, (561) 368-5520.
Back on July 7, 2008 I did a "review" on a terrific Italian restaurant—Pellegrino's Ristorante located in Deerfield. Here's the original story…
Pellegrino's Ristorante (Deerfield Beach)
Posted on July 7th, 2008 · Deerfield Beach Italian ·
***** Pellegrino's Ristorante, 847 SE 8th Avenue, Deerfield Beach, Florida 33441 (954) 418-0611.
Pellegrino's Ristorante is a white table cloth-hole in the wall Italian joint located in a non-descript Deerfield Beach strip shopping center. This is one of the best Italian Restaurants in South Florida, so make sure that your GPS system is working…so that you can find it.
Take a look at Pellegrino's website at www.pellegrinosrestaurant.com for menu details. Also take a look at the joint's history and picture gallery. In the "history" you will find that Bobby Pellegrino (Pellegrino's owner) is a nephew of the owners of Harlem's world-famous Rao's Restaurant. Folks who have eaten at Rao's have told me that the Pellegrino's and Rao's food is very similar as is the total dining decor/ambiance. All I can tell you (having never eaten at Rao's) is that Pellegrino's sets the right mood, that being that you are eating at a family run NYC Italian joint circa 1950 by having an old juke box playing doo wop records when you enter the joint.
I have eaten in Pellegrino's exactly 4 times. The food is absolutely terrific… delicious veal chop valdostano, veal parmigiana, shrimp scampi, zuppa di pesce.
Like I said before, this joint is a hole-in-the-wall, so you are going to need a reservation. As for pricing, this joint ain't cheap…but "you get what you pay for."
Pellegrino's is open Tuesday-Sunday for dinner…closed on Monday.
————
Let me update this one for you guys.
Pellegrino's which originally opened in Deerfield in 1999 closed in April, 2010. About a week ago-the joint re-opened finding a new home in Boca Raton. Last night, I gave the "Boca" Pellegrino's a try. The only difference between the "versions" is locations and the fact that the Boca spot is a drop larger and has a nice sized outdoor patio for dining. The food like before- was delicious, the service was good, the prices are still a "drop" on the high side–but nothing that's gonna kill anyone or chase you away. The old juke box wasn't there, but Bobby Pellegrino assuerd me that in coming days it was going to be installed.
Let me sum this one up for you, Pellegrino's is one of the best Italian restaurants in South Florida.
Like I said a few seconds ago, Pellegrino's has only been open a week or so (as a matter of fact, its website www.pellegrinosofboca.com is still basically under-construction)—for sure it's got a few bugs to workout, but the bet here–there will soon be lines trying to get in.
Pellegrino's is open Tuesday-Saturday for dinner, closed on Monday.