Cupcake Cottage (Royal Palm Beach)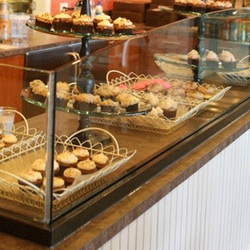 ***** Cupcake Cottage, 11051 Southern Boulevard, Royal Palm Beach, Florida 33411, (561) 793-5110.
You regular readers-know by now, that I consider the "retail" cupcake store business to be a FAD…One of these days, like the home-video-rental business, many of these mom & pop ventures aren't going to be able to pay their rent…same also goes for the yogurt by-the-ounce guys out there. Simply put, there are just way too many stores for what I think are relatively limited markets.
With that in mind…Cupcake Cottage makes some of the most delicious cupcakes that you have ever eaten. Take it from a guy who was raised on Hostess Cupcakes, Twinkies and Ding Dongs—this joint's stuff is amazingly good.
Cupcake Cottage www.cupcakecottage.net is open Tuesday-Thursday 11am-8pm, Friday-Saturday 11am-9:30pm, Sunday 11am-6pm, closed on Monday.