Super Subs Etc. (Coral Gables)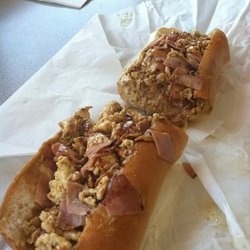 ***** Super Subs Etc., 6380 Bird Road, Coral Gables, Florida 33155, (305) 665-0990.
In my day, I've eaten my fair-share of subs/grinders/heros (pick your regional term)—I maybe going out on a limb here, but this 6-seat sub shop which has been around since 1977- has to be right up there with the best-of-all time. Now this isn't an exact count, but its menu lists something like 100 different hot/cold (6″ & 12″) sandwiches. You can check menu/prices at www.urbanspoon.com.
A recent outing had me "doing"—chicken cordon bleu, philly cheesesteak, bbq steak, bbq pork rib, mushroom cheeseburger subs. I am telling you, some of the best sub-stuff that I have ever eaten. On the price front—no more expensive than your favorite neighborhood joint.
For you-guys out there who don't get from where I am coming… A Super Subs' sandwich is a Rembrandt, Picasso, Renoir, Van Gogh (Well, maybe not a Picasso!). Think, your favorite "slice" of pizza matched against a slice from Little Caesar's…a Volkswagen CC against a Corvette…a 32″ flat screen tv against a 72 incher.
To sum it all…Super Subs Etc. is a terrific sub shop.
The joint is open Monday-Saturday 9am-8pm and Sunday 10am-5pm.