Marcella's Restaurant & Pizzeria (Pembroke Pines)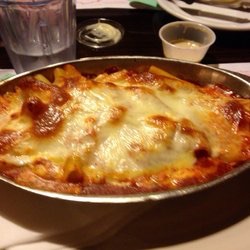 ***** Marcella's Restaurant & Pizzeria, 12305 Pembroke Road. Pembroke Pines, Florida 33025, (954) 433-1522.
Marcella's Restaurant & Pizzeria…"mom & pop" red sauce Italian joint, located in Pembroke Pines.
Just so you know, I "originally" talked about this joint way back on July 13, 2009. Hadn't been back since then. Got good news for you guys and "them." I liked Marcella's in 2009…I still like Marcella's in 2011-and actually think that the food is even better than it was 2- years ago. Then again, I'm getting up there in years, so maybe…Anyway, Marcella's is a real good one.
You "know" the drill here—pizzas, calzones, subs, entrees come with soup/or salad, garlic rolls, pasta side. Tee shirts/shorts/sneakers-flip flops-sandals— dress of the day.
Let me make this a quickie for you…if you are looking for reasonably priced really good red-sauce stuff, Marcella's will definitely get the job done for you. A recent outing had me trying–pizza, meat lasagna, veal parmigiana, veal marsala, clams oregenata, spaghetti & meatballs—everything was A-OK.
To sum it up, I enjoyed Marcella's…everything- shall we say "sampled"- was as good if not better than most of the stuff served at the 100,020,004 "mom & pop" red sauce joints that seemingly inhabit every strip center in South Florida.
Marcella's is open Monday-Saturday 11am-10pm, Sunday noon-10pm.