The Dandee Donut Factory (Deerfield Beach, Pompano Beach, Hollywood)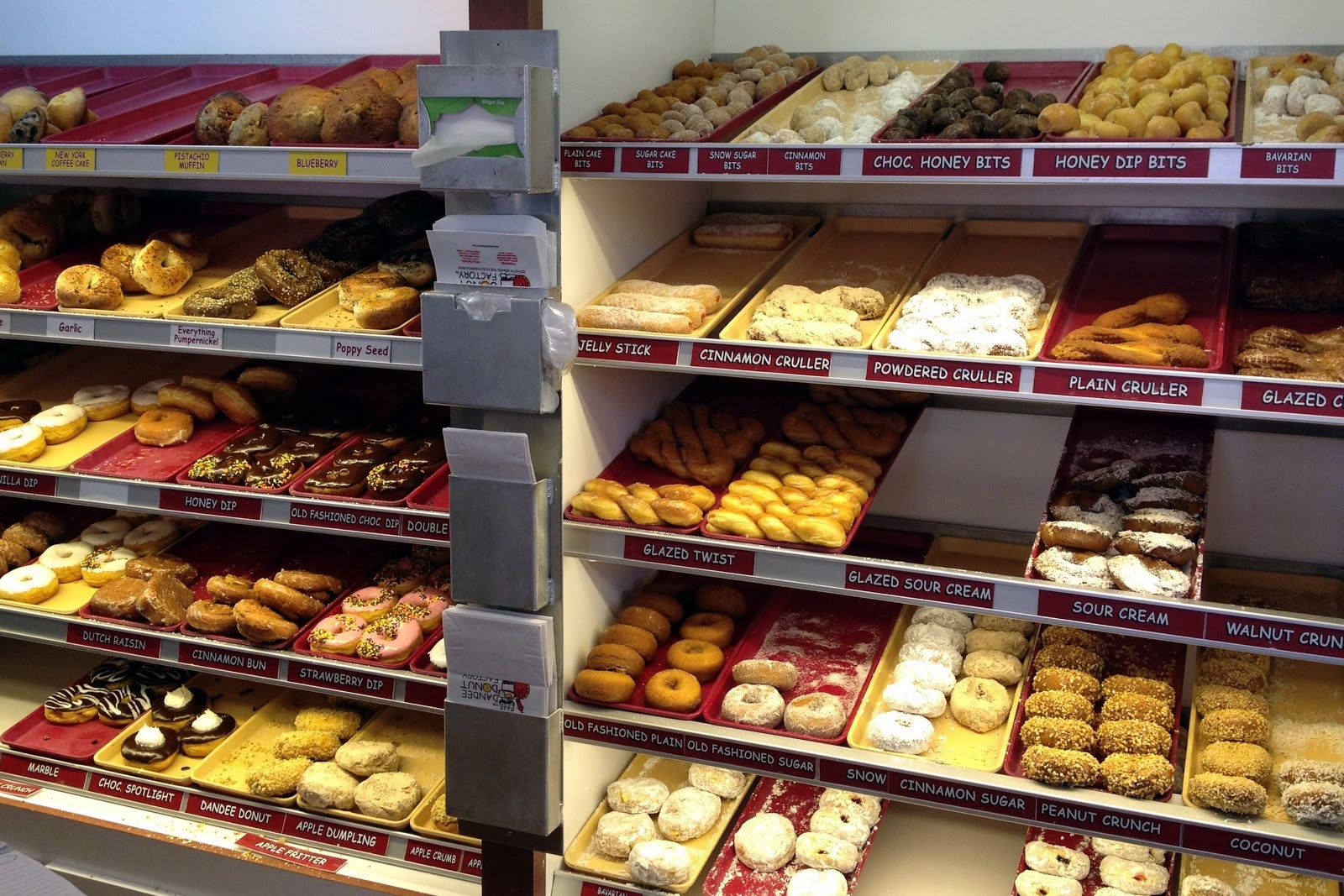 ***** The Dandee Donut Factory, 1422 South Federal Highway, Deerfield Beach, Florida 33441, (954) 429-0869…1900 East Atlantic Avenue, Pompano Beach, Florida 33060, (954) 785-1461…102 North 28th Avenue, Hollywood, Florida 33020, (954) 929-1118.
Let me make this one short and sweet (pun intended)…I never met- a donut that didn't like me and vice versa. One of my favorite "in house" delights, is to pig-out on 6 honey glazed donuts with a hot cup of coffee while reading the newspaper. Suffice it to say, when I'm in such a mood, I really don't care if the donuts are Dunkin' Donuts, Krispy Kreme, Publix brand… just call it, a quest for a sugar high or a carefree moment. Not being a limited kinda guy–I also love powdered, jelly, cake donuts (just to name a few)–but honey glazed is at the top of the list. Anyway…the point of this discussion, is to get across the fact, that donuts are one of my favorite food-groups.
For the record, over the years I must have eaten/taken out donuts from the Deerfield Beach and Pompano Beach–Dandee locations a combined 30 times. I have never tried the Hollywood joint. From what I understand, the 3-stores are owned by different people…but the donuts and food menus are basically the same. You can check menu/prices at www.dandeedonuts.com.
The best way for me to describe The Dandee Donut Factory, "think"– Dunkin' Donuts meets Waffle House or Ruffle House (By the way, when the guy who owned Waffle House wouldn't sell a franchise to a guy who wanted one, the second guy started his own chain named Ruffle House. I thought you'd like that little gem, in case you ever go on Jeopardy). All 3 locations, in addition to donuts have a breakfast/lunch menu. Counter/table seating. For the record, the "non" donut stuff, is as good as any "mom & pop" diner's offerings and runs circles around the IHOP's, Denny's and Perkin's of the world. That said, the real game at The Dandee Donut Factory is DONUTS.
Let me close this out by saying…the donuts served by Dunkin' Donuts and Krispy Kreme are no match whatsoever for the donuts made by Dandee.
If you realy want to eat 1-2-3-4-5-6-7-8-9-10-11…delicious- out of this world donuts, you gotta try The Dandee Donut Factory. The Pompano location is open 24/7. The other two joints are open Monday-Sunday 6am-4pm.
These "guys" really know how to make donuts.