Jan's Homemade Candies (Lauderdale By The Sea)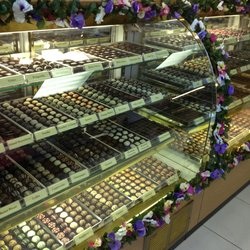 ***** Jan's Homeade Candies, 4327 North Ocean Drive, Lauderdale By The Sea, Florida 33308, (954) 202-9495.
This one is basically a "public service" announcement…The other day, I saw a tv news segment–on the health benefits of eating dark chocolate. In a nutshell, dark chocolate supposedly is good for your cardiovascular system, produces valuable antioxidants and flavonoids, lowers cholesterol and blood pressure- and helps to relieve depression.
Now, that you know why you should be eating dark chocolate, you gotta checkout Jan's Homemade Candies in Lauderdale By The Sea. You can check products etc. at www.janshomemadecadies.com.
Suffice it to say, you can get all the home-made dark chocolate that your little heart desires, not to metion delicious carmel apples, licorice, nuts, fudge—and "every" candy known to mankind–at Jan's.
In my day, I've been in loads of "candy stores"…Jan's is right up there with the best of breed.
So, if you are a healthnut like I am, Jan's is open Monday-Thursday 11am-6pm, Friday-Saturday 11am-8pm, closed on Sunday.