Giotto (Miami Beach)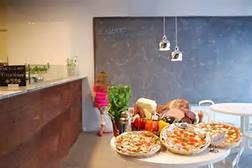 ***** Giotto, 959 West Avenue, Miami Beach, Florida 33139, (305) 532-1138.
Giotto…super modern looking pizza/salad joint located in Miami Beach.
Really quite simple here– Giotto makes delicious 8″ and 13″ pizzas…throw in equally delicious salads and you got a place that you defintely want to try.
Check menu/prices at www.giottopizza.com. The site also has a ton of photos, so you'll know what the joint looks like.
A recent dinner outing had me "doing"…margherita pizza (13"–$9.50), house salad with chicken ($6.50). Like I said before, delicious. Actually, one of the better pizzas I've had in a very long time. On the salad front, you actually "build" your own…it starts with romaine lettuce and you "add" what you want.
Giotto is open Tuesday-Sunday noon-11pm. The joint is closed on Monday.