Junior's Diner (Orlando)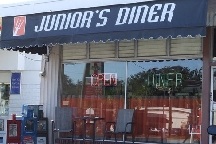 ***** Junior's Diner, 2920 Corrine Drive, Orlando, Florida 32803, (407) 894-8871.
Junior's Diner…"mom & pop"–cash only–booth/counter seating diner in Orlando.
I love neighborhood-diner joints, like Juniors. Nothing fancy, just good solid breakfasts, burgers, fries, sandwiches—what makes these joints special is–that they have personality. Unlike chains like IHOP and Perkin's, the Junior's of the world have a down-home style and personal touch that only local-owners can generate.
Now, we all know that Orlando is a tourist "mecca"—I seriously doubt, that there are any national restaurant chains without at least one Orlando outpost. If you want to eat where the "locals" eat…you gotta try Junior's Diner. The joint is open Monday-Saturday 6:30am-2pm and is closed on Sunday.