Grimaldi's Coal-Brick Oven Pizzeria (Palm Beach Gardens)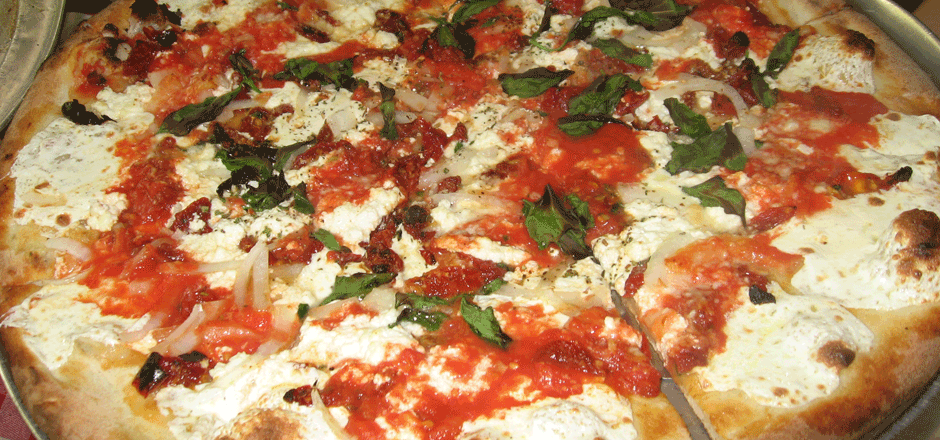 ***** Grimaldi's Coal-Brick Oven Pizzeria, 11701 Lake Victoria Gardens Avenue, Palm Beach Gardens, Florida 33410, (561) 625-4669.
Grimaldi's Coal-Brick Oven Pizzeria is a "coal oven" pizza chain…there are currently locations in Arizona, Florida, Nevada, New Jersey, New York and Texas. For our purposes, there is currently 1-location in South Florida (Palm Beach Gardens) with announced plans to open a second spot at 1 North Clematis Street, West Palm Beach.
You can check menu/prices/locations at www.grimaldispizzeria.com.
Over the years, I'm gonna guess- that I have eaten in the Brooklyn location 10 times and the Tucson joint 8…Last night, I had dinner at Palm Beach Garden's restaurant…same menu, same delicious pizza. The only problem I have with Grimaldi's is that its menu is extremely limited…like try- pizza, a handful of salads, handful of calzones, handful of desserts…end of story. So–if pizza and salad ain't your bag, you're in for a serious problem while the rest of your party stuff their faces.
The Palm Beach Gardens' joint is located in DOWNTOWN AT THE GARDENS…a gorgeous white elephant outdoor mall, which has more empty stores than there are Chins in a Chinese phonebook.
Grimaldi's pizza is outstanding…it's right up there with the best of breed. The joint's caesar and caprese salad are also delicious. The Palm Beach Garden's joint has a full bar, indoor and outdoor patio seating.
So what we got here…one of the best coal fired pizza/salad joints in South Florida albeit with a very limited menu…great looking indoor wood decor/outdoor patio seating…full bar—in a huge ghost town complex.
Grimaldi's is open Sunday-Thursday 11am-10pm and Friday-Saturday 11am-midnight.