Taste Bakery Cafe (Miami Beach)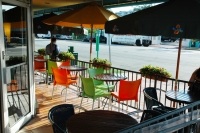 ***** Taste Bakery Cafe, 900 Alton Road, Miami Beach, Florida 33139, (305) 695-9920.
Before I get going on-this-one, you guys do know that this food reviewing thing is totally a subjective thing. What I like, you may hate and vice versa. In forming opinions, it's all about life-experience. Look! I was raised on $.15 pizza, $.01 candy and $.05 Coke. To be perfectly honest, to this very day, I can't figure out what this 5 bucks Starbucks' "attraction" is all about. With that in mind let me tell you about Taste Bakery Cafe in Miami Beach.
About a week or so ago, I did lunch at the Taste Bakery Cafe…think Starbucks on steroids and you got the picture…better yet, check www.taste-bakery.com for menu/prices/photos.
Now, nobody and I mean nobody is ever going to "beat" the 1960's –Ebinger's blackout chocolate cake, or Steinhartz Bakery's onion rolls, or Sutters' black & white cookies or Chock Full Of Nuts' date-bread-cream cheese sandwich, or Cookie's on Avenue U (there was also one on Avenue J) burgers and meatloaf —but I will tell you, that this 2011-Taste Bakery Cafe has a real nice menu of breakfast stuff, salads, sandwiches, smoothies, coffees and baked goods.
A recent outing had me doing…chopped salad, roast beef wrap (if memory serves me correctly, there were no wraps in the 1960s except the fox one my mother and her girlfriends wore), peanut butter & jelly tortilla (another item that the Flatbush section of Brooklyn in 1960s wasn't exactly known for), pesto panini (maybe they existed in Brooklyn 1960s, but I don't recall this one either). Now, not exactly truck-stop food, but everything was delicious-right on the money.
Taste Bakery Cafe is open 7 days a week 7am-6pm.