Cafe Frankie's (Boynton Beach)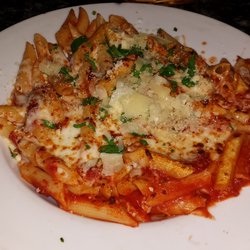 ***** Cafe Frankie's, 640 East Ocean Avenue, Boynton Beach, Florida 33435, (561) 732-3834.
Cafe Frankie's…"mom & pop" Italian joint located in a Boynton Beach craphole shopping center—which has more closed stores than opened ones. Didn't count tables, but maybe a handful inside and maybe a handful outside…absolutely nothing fancy going on here. Your shorts/tee shirt ensembles will work well there.
The observant will have noticed by now, that I didn't call Cafe Frankie's a "red sauce" joint. For sure, its got pizzas, pastas, veal parmigiana, meatballs, penne ala vodka—that said, someone in the back-of-the-house really knows how to cook…outrageously delcious veal marsala, shrimp scampi, fried lobster, clams oreganata…throw in terrific thin crusted-sweet sauce pizza and I gotta rate the food right up there with the best mom & poppers in South Florida.
Only got two-complaints, the joint's bread which is served with roasted garlic and pesto—was boring. I guess "boring" is a subjective thing…what I do know, is I usually devour a ton of bread in these kinds of joints…last night, one piece was more than enough for old Jeff Eats. Some real good garlic bread or garlic rolls would have been more on point. The second complaint, soda in cans…I also love loads of Coke when I do mom & poppers—cans take the fun out of eating like a pig.
On the price front…Cafe Frankie's has the requisite- entree, soup or salad, pasta side "deals" going. A cursory menu review—just an estimate, but some of the entrees are here-and-there- a few bucks more expensive than the local competition. No biggy here, as I thought that the food was just plain out-better than the stuff I usually "sample."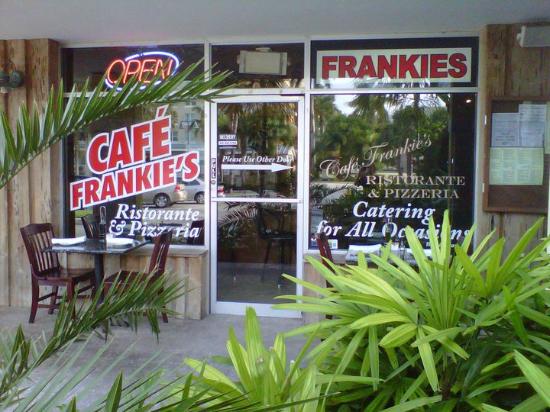 Cafe Frankie's is open 7 days a week for dinner and does lunch Monday-Friday.