Gusto Fino Italian Deli (Coral Gables)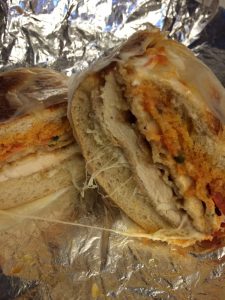 ***** Gusto Fino Italian Deli, 2103 South LeJeune, Coral Gables, Florida 33134, (305) 444-0504.
Tremendous! That's the best way to describe this "hole in the wall" Italian Deli in Coral Gables. You can check menu/prices/photos at www.gustofinodeli.com.
Just so you know, this is basically a "takeout"…the joint does have a handful of tables. The menu has some absolutely terrific sandwiches, salads, personal pizzas, pastas and entrees. A recent outing had me "doing" sausage & peppers—chicken parmigiana—meatball ciabatta sandwiches…off the chart. I also "did" meat lasagna and a caprese salad…delicious.
I loved this joint.
Nice break from the "typical" $5 sub joints that dot the South Florida landscape.. For those who haven't yet checked Gusto's website…sandwiches run $7.95-$8.95 and the most expensive item on the menu are a couple of pasta/entrees that top out at $13.95
Gusto Fino Italian Deli is open Monday 11am-4pm, Tuesday-Friday 11am-4:30pm, Saturday noon-4pm, closed on Sunday.