Angelina's Italian Deli (Boca Raton)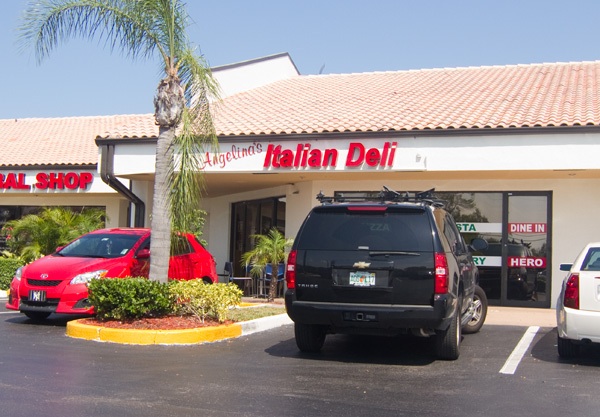 ***** Angelina's Italian Deli, 7400 North Federal Highway, Boca Raton, Florida 33487, (561) 443-3337.
Angelina's Italian Deli is a hole-in-the-wall—mom & pop—red sauce—Italian joint in Boca Raton…decor, New York Yankee stuff (very original!).
If you are over the age of 2, no make than 1…you know exactly what Angelina's menu is all about. This one is a no-brainer…pastas, calzones, strombolis, pizzas, subs, meat/chicken/seafood entrees (entree comes with soup or salad, pasta side, garlic rolls).
Tried Angelina's for dinner and was "shocked" to learn that this joint isn't open on Sunday…I guess the guy who owns Chik-fil-A also owns Angelina's. I don't know about you guys, but growing up in Brooklyn in the 1950's…Chinese food was a Friday night family ritual, Saturday night was when Uncle Sammy baby-sat me and my brother Andy while my parents went out, Sunday night was Italian night with Carolina's in Coney Island being the go-to-place.
Anyway, although it was on a Wednesday…I really liked Angelina's. Tried the pizza, veal parmigiana sub, sausage sub, chicken cutlet panini, penne ala vodka. Now, in deference to a recent reader who recently wrote and I quote…"Hey, Jeff how can you possibly love every item that a restaurant has?"—The pizza was really good, the veal parmigiana sub was really good, but not as good as the pizza, but it was a drop better than the sausage sub which was almost as good as the penne ala vodka which was close- but the chicken cutlet panini was the best.
Let's get real here. Angelina's is a neighborhood pizza "place." Joints like this were put on the map, so that guys like me and you, can get lots of solid red sauce stuff for realtively cheap money–use a ton of napkins, drink way too much Coke and have a good time with friends and family. Curing cancer, doesn't enter the equation here-whatsoever!
If you "see" things like I "see" things…you will really like Angelina's which is open Monday-Wednesday 11am-7pm and Thursday-Saturady 11am-9pm.
By the way, www.southfloridadines.com has one of those $10-gets you-$20 coupon deals going.