Downtown Pizza (Lake Worth)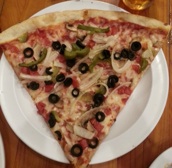 www.downtown-pizza.com…picture in your mind-what you think this joint's menu is all-about—correcto-mento…the usual appetizers, pizzas, subs, calzones, pastas, chicken/meat/seafood dishes—
Trust me on this one, delicious New York Style pizza…thin crust, a real-nice sweet sauce. Also tried- chicken parmigiana sub, meat lasagna, veal marsala…ok, but nothing to get nuts over.
So…If you live or work in Downtown's neighborhood, you now know where you can get a real-good slice and decent enough-other stuff.
Downtown Pizza is open Monday-Thursday 11am-11pm, Friday-Saturday 11am-2am, Sunday 11am-10pm.