2 Chef's Souparee (Lake Worth)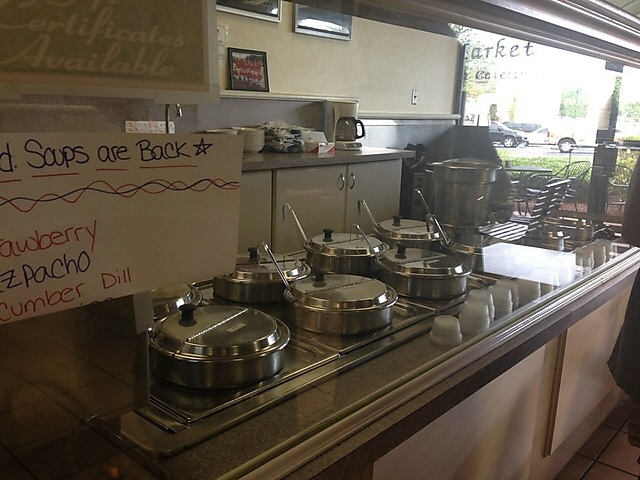 ***** 2 Chef's Souparee, 6338 Lantana Road, Lake Worth, Florida 33463, (561) 432-2477.
I know that it's something like 103-out there…but you absolutely-positively gotta try 2 Chef's Souparee that makes some of the most amazingly delicious- soups, salads, sandwiches, dinner entrees and desserts that you have ever tasted. 2 Chef's is basically a takeout, but it does have indoor seating for about 16…order at/pickup at counter.
2 Chef's menu has 17 soups, 4 dinner salads, 8 sandwiches, 6 dinner entrees, 6 desserts. From what I can tell, only the breads and rolls are not home-made.
I recently tried mushroom barley soup (bowl-$4.90), french onion soup (bowl-$4.90), chicken pot pie soup (bowl-$5.90), new England clam chowder (bowl-$5.90). Let me state unequivocally that all of the soups—were outstanding. On the sandwich front, chicken salad and tuna salad ($6.90) were dynamite…same for the sirlon patty melt ($6.90). Dinner entrees "sampled" ($11.90–come with bread. soup or salad, potato or pasta) "sampled"… meatloaf–chicken parmigiana–1/2 roast chicken…All were delicious.
On the dessert front- the chocolate cake and peanut-butter chocolate cake—were definitely worth the calories
Every so often old Jeff Eats "stumbles" upon a homerun. 2 Chef's Souparee is a grand-slam!
2 Chef's is open Monday-Saturday 10am-9pm. The joint is closed on Sunday.
One final piece of business, if "discount coupons" are your game…www.southfloridadines.com has a $7.50 gets you $15.00 deal going.