The Fresh Market (Boca Raton, Aventura, Coconut Grove, Coral Springs, Fort Lauderdale, Miami Beach, Orlando, Pembroke Pines, Tampa, Vero Beach, Wellington)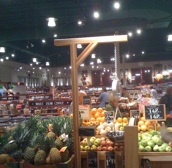 The Fresh Market, 20409 State Road 7, Boca Raton, Florida 33498, (561) 479-4845.
The Fresh Market…think Whole Foods Market (www.wholefoodsmarket.com—overpriced national "specialty" supermarket) and you got the whole (pun intended) concept in a nutshell. The Fresh Market is a publiclly traded company and as of June 2, 2011 had 101 stores in 20-states. You can check www.thefreshmarket.com for store locations/and other stuff.
Last week I stopped in the newest- The Fresh Market which had "just" opened on State Road 7 in Boca Raton. The space was previously occupied by an Albertson's store. Like I said before, squint your eyes/and you'll think that your in a Whole Foods. For those of you who don't know what a Whole Foods is—specialty grocery retailer. Anyway…I absolutely love fresh orange, grapefruit, tangerine juice. To make a long story short, went to the the juice "area" and found fresh orange and fresh grapefruit. There were 2-brands Kennesaw and a Signature Collection. There was also a sign that in essence said that that Signature Collection was made by Kennesaw especially for The Fresh Market. Being a "good" shopper, I checked the "SELL BY DATE" on the product and low-and-behold I found a number of both the orange-grapefruit (Kennesaw-Signature Collection) quarts to have dates that had already-come-and gone. NOT GOOD!
Imagine—A specialty food market selling "expired" products?…or for that matter, any supermarket selling dated-expired stuff.
Sorry, I can't comment on the fruits, vegetables, baked goods, prepared foods, candies…didn't try them. I came for juice and found a store that couldn't even handle the simpliest of tasks-having fresh products.