Saquella Caffe (Boca Raton)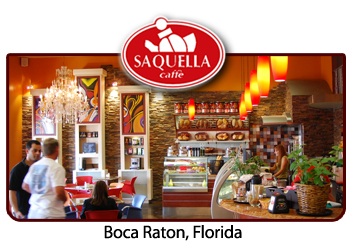 ***** Saquella Caffe, 410 Via De Palmas, Boca Raton, Florida 33432, (561) 338-8840
The other day I was in the Royal Palm Plaza…Boca Ratonians "know" this outdoor shopping center as the Pink Plaza. The landlord and unfortunately many of its tenants, know that this mediterranean style center- which happens to be Boca Raton's oldest center, is an absolute white elephant…suffice it to say, over the years, tenants have come and gone–at an amazing rate…but, that's a whole-nother story for another day.
Anyway…Saquella Caffe is one of the very few "Pink Plaza" businesses that has successfully managed to build an enormous-steady clientele. The joint has both indoor and outdoor patio seating and does breakfast-lunch-dinner. If you check www.saquella-usa.com you will find a reasonably priced menu of breakfast items, sandwiches, flat breads, salads, meat/chicken/seafood entrees, desserts.
As I mentioned before, I was there the other day…tried, blueberry waffle ($6.99), chicken waldorf/muesli toast ($9.99), greek salad ($10.95), nova smoked salmon salad ($11.99)—let me go out on a limb here, the food served-the decor-the service…ran absolute circles around most of my favorite South Florida bagel-deli "close" at 3pm joints.
Rather than racking my brain to describe the decor-atmosphere…conjur up a Woody Allen Italian/French cafe-bistro and you'll be on target. By the way, at the website that I just gave you, there are decor-photos/video, so if you are from Mars or Pluto and have never caught a Woody Allen film–you won't be out of the loop. Just so you know, your shorts/tee shirts work here as this is one cool-easy going joint.
Let me wrap this up…I absolutely loved Saquella.
Saquella Cafe is open Monday-Wednesday 7am-9pm, Thursday=Saturday 7am-11pm, Sunday 7am-4pm.