Corelino's Coal Oven Pizza & Cucina (Lake Worth)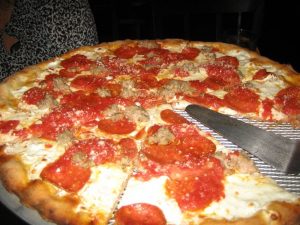 ***** Corelino's Coal Oven Pizza & Cucina, 6346 Lantana Road, Lake Worth, Florida 33463, (561) 968-8200.
Back on August 28, 2010…I did a writeup on Corelino's Coal Oven Pizza & Cucina located in Lake Worth…www.corelinoscoaloven.com.
For those of you looking for DEALS and who isn't?…if you are on Corelino's "mailing" list—every so often, you will receive a morning-email with a DEAL. For example, last week, I-got the following email…
"Come in this week and enjoy our delicious specials: -"Linguine Pescatore" Fresh mussels, clams, shrimp and calamari sauteed in a spicy light marinara sauce – Fresh mussels sauteed in a red or white sauce. – Don't forget our delicious home made desserts! We look forward to serving you!! P.s. HALF OFF all glasses of house wine tonight!! * print this email and get 15% OFF your order of any 2 entrees or 2 large pizza's!!!! * This offer is valid from 6/22 through 6/23. * can not be combined with any other offers.
*DON'T FORGET TO JOIN US EVERY TUESDAY & SATURDAY FOR BUY 1 GET 1 HALF OFF ALL DRINKS FROM OUR FULL BAR!!!"
CORELINO'S COAL OVEN PIZZA & CUCINA
6346 Lantana Road
Lake Worth, FL 33463
561-968-8200
—
Like I said before, you gotta be on Corelino's email list to get future offerings.