CG Burgers (Coral Springs, Fort Lauderdale, Jupiter, Miami)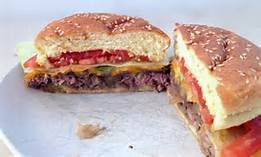 ***** CG Burgers, 4320 North State Road 7, Coral Springs, Florida 33067, (954) 510-4801.
Yesterday afternoon a "new" fast food burger joint CG Burger opened in Coral Springs. Soooo…I decided to give it a shot-getting there about 7pm. Before I go further, CG Burgers in addition to the Coral Springs location has… 1-store in Fort Lauderdale, 1-store in Jupiter and 1-store in Miami. CG's website- www.cgburgers.com indicates that new stores are set to open in Coral Gables and Palm Beach Gardens. By the way, you can check menu/prices/photos at the site.
The best way for "me" to explain CG Burgers…Five Guys Burgers meets You Name It Sports Bar with a dose of "whatever" medicine Barry Bonds used- to hit all of those homeruns- thrown into the mix.
I absolutely loved the Coral Springs joint. Just so you know, CG Burgers (order at counter/food is delivered to your table) does burgers, fries, sandwiches, roasted wings, milk shakes and has a salad bar. Of note, the Fort Lauderdale, Jupiter and Miami stores also have coal-oven pizza…not sure why Coral Springs doesn't do pizza, but it doesn't.
Yesterday I "tried"—cheeseburger ($6.25), french fries ($2.50), zucchini fries ($4.50), roasted wings (10-$8), side salad ($3.95—"all you can eat" $9.95). Everything was delicious. The cheeseburger "using" Five Guys as a point of reference–was a good as the one Five Guys produces…same for the hand cut fresh french fries. The salad bar, must have had 20 or so items to load up on. The wings which were topped with carmalized onions and grated cheese were as good as the best that I've had the various coal-oven pizza & wings joints that dot the South Florida landscape. The zucchini fries, were long strips lightly fried—dipped in a great ranch dressing, they were right on the money.
Like I said before, I loved CG Burgers…definitely one of the best fast food "burger" joints that I've tried.
CG Burgers is open 7-days a week, 11am-10pm.
*****
August 8, 2012 UPDATE…
Just wanted to give you guys a "quick" update on CG Burgers…
Since my inital 6/21/12 "outing" to the Coral Springs' store–Jeff Eats and Mrs. Jeff Eats have been back to that particular store something like 5-6 times. Each time, the food and service have been right on the money. In addition, to the Coral Springs' outings, we have been to the Fort Lauderdale store twice–and those meals were a whole nother thing. Both times, we found the "exact" same burger, chicken breast, zucchini fries to be absolutely lousy. We also found on both visits, the outside area to be–dirty. The bottom-line as far as Jeff Eats goes…Coral Springs YES!, Fort Lauderdale NO! One other item, Jeff Eats and others have applied on-line for the various "discounts" and "cards" advertised—and to date, have never received anything back from the Company.
My gut feeling tells me, that CG Burgers may have bitten off more than it can chew. Just maybe, the "big" menu it offers is causing it to compromise on service and food quality issues. As I mentioned before, Coral Springs seems to be doing just fine—which I suspect has a lot to do with its GM (Mike) who seems to know how to really run things…as for Fort Lauderdale, Jeff Eats and Mrs. Jeff Eats will absolutely positively not be returning for a third go-round.
CG has other locations in addition to the Fort Lauderdale and Coral Springs' joints—I have no idea as to what they are like.
If CG's management reads this:
You guys better be careful here.
You have an interesting business that may soon end-up in the "crapper" because you didn't operate it correctly.