SOUVLAKI fast (Boca Raton)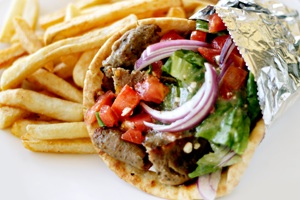 ***** SOUVLAKI fast, 122 Northeast 2nd Street, Boca Raton, Florida 33432, (561) 395-1906.
SOUVLAKI fast…hole in the wall (maybe it's got 20 seats)-fast food Greek joint in Boca Raton…order at/pickup at counter.
You can check menu/prices at www.souvlakifast.com.
I just had dinner…gave SOUVLAKI fast- a shot…tried beef/lamb gyro, pork souvlaki, ribeye souvlaki, chicken souvlaki. The verdict, I thought that the beef/lamb gyro and chicken souvlaki were delicious. I found the pork and ribeye souvlakia to be "on" the dry side and overspiced. The pita bread, nothing worth wasting calories over. Now mind you nothing terrible, but a restaurant should be able to bat better than 400. I could also say that "almost" only counts in horseshoes–but I won't.
You know and I know that this "food reviewing" business is purely subjective. What I like, you may not like and vice versa. I will tell you, that I was in SOUVLAKI fast from 8:25pm-8:53pm on a Thursday night and while there, the counter must have handled (in addition to my 2-party) 9 pickup orders and 5 eat-in orders. I will also tell you, that SOUVLAKI fast–in a about a week or so, is opening a second location at 625 North Spanish River Boulevard, Boca Raton. So just maybe, many others might disagree with my critical analysis. One other thought, the three counter-staff were as pleasant as could be.
That's my take on this joint.
SOUVLAKI fast is open Sunday-Thursday 11am-9pm, Friday-Saturday 11am-10pm.