Grease Burger Bar (West Palm Beach)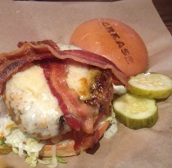 ***** Grease Burger Bar, 213 Clematis Street, West Palm Beach, Florida 33401, (561) 651-1075.
The next time you find yourself wandering aimlessly around the CityPlace/Cleamtis Street "region"- I got a really-good "American Style" joint for you to eat in…Grease Burger Bar.
The best way to describe Grease Burger…upsacle sports- bar (its got 14 flat screen tvs), full bar and over 100 beers on tap/bottle—soups, salads, sandwiches, burgers "galore"–bratwurst, wings, desserts.
Let's talk food…This afternoon, I "tried" beef sliders (4-$10.95), 10 oz. cheeseburger ($8.95), french onion soup ($5.95), chicken caesar ($10.95), french fries (large-$2.75), chocolate milkshake ($4.95). The result, like I said before—Grease Burger Bar is a really good joint to know about. Everything was right on the money.
If burgers are your game, you won't be disappointed. The selection (toppings) is huge…the burgers are "upscale" and right up there with the best "gourmet" stuff old Jeff Eats has eaten down here in South Florida and elsewhere. The french fries, were also delicious—they weren't "fresh hand cut"…but they were fried and salted perfectly.
You can check menu/prices at www.GreaseWPB.com.
This is a really cool place for lunch, dinner or just plain old socializing.
Grease Burger Bar is open 7 days a week.