Yogurt Zone (Boca Raton)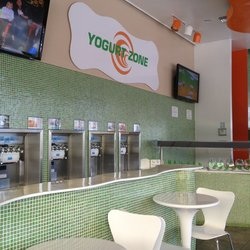 ***** Yogurt Zone, 8903 Glades Road, Boca Raton, Florida 33434, (561) 483-4521.
"Sur-prise, sur-prise, sur-prise!" (courtesy Gomer Pyle)…another self-serve yogurt joint recently opened in Boca Raton…say hello to Yogurt Zone.
Not gonna belabor the point…the self-serve yogurt business is a FAD. It's gonna end sooner rather than later and a whole bunch of moms & pops who own these joints ain't going to be happy campers.
The skinny on Yogurt Zone—12 flavors, toppings, 42 cents an ounce. Tried the coconut and "no sugar added" vanilla and strawberry. Glad- to report, that the yogurt is absolutely delicious.
Yogurt Zone flavor-wise, is one of the best self-serves that old Jeff Eats has tried. Not that it really matters (because the store is already open), but the location in "my humble opinion" is piss-poor. Not certain on this, but if memory serves me correctly, two former businesses in the exact same storefront where Yogurt Zone now resides, 1 an ice cream/yogurt store and 1 a gelato franchise failed miserably. I only wish the owner the best, but "I don't think so." Doesn't anyone know that businesses like this, need…cheap rents and huge foot traffic and cheap rents and huge foot traffic and cheap rents and huge foot traffic to survive? I guess not!
Anyway…Like I said before, Yogurt Zone has a real good yogurt product.
The joint is open, Sunday-Thursday 11am-9pm and Friday-Saturday 11am-11pm.