Gables Pizza & Salad (Coral Gables)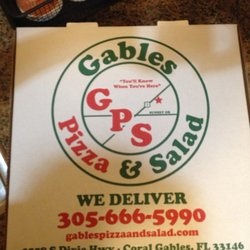 ***** Gables Pizza & Salad, 1558 South Dixie Highway, Coral Gables, Florida 33146, (305) 666-5990.
Got a really good "fast food" pizza joint for you…Gables Pizza & Salad in Coral Gables. You can check menu/prices at www.gablespizzaandsalad.com.
If you can live without a waiter or waitress bringing you-your food…I think you will enjoy this joint. The menu has pizzas (whole pies and slices), salads, pastas, sandwiches, wraps. wings. A recent outing had me trying a slice of pizza ($2.49), greek salad ($7.99), beef lasagna ($7.99), meatball sub ($6.99). The food was right on the money.
Although it looks like your typical "mom & pop" Italian pizza joint, Gables Pizza & Salad, isn't. Now, no disrepect intended to the moms & pops out there…but, the guys running this show know- that not everyone, is like old Jeff Eats and is "satisfied" with just a slice and a large Coke—that's why they got terrific salads and a "Create Your Own Salad" situation. Throw in wraps, wings, and stuff like tomato-spinach-or honey wheat tortillas and these boys can "handle" the food demands of all-comers.
This is a real good one.
Gables Pizza & Salad is open Monday-Thursday 11am-midnight, Friday-Saturday 11am-1am, Sunday noon-11pm.