Marola's Restaurant (Coral Springs)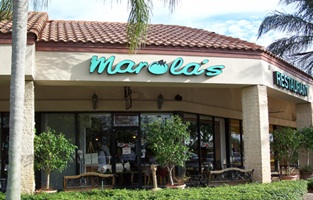 ***** Marola's Restaurant, 929 North University Drive, Coral Springs, Florida 33071, (954) 796-0544.
If you want to know about an absolutely terrific Italian joint…Marola's Restaurant in Coral Springs–you gotta do me a favor and first- read Jeff Eats' review of Fra Diavolo (Januray 9, 2007). Go ahead, I willl wait!
Now this may-be a bit convoluted…but I'll get there.
Marola's and Fra Diavolo are "some-how" owned and operated by the same folks. The ownership story is a bit confusing—so I'll let you figure out who (or is it whom?) is related to who (or is it whom?). You can "read" Marola's story and check menu/prices www.marolascoralsprings.com.
Over the years, I must have eaten at Fra Diavolo at least 15 times. The food has always been delicious…service has always been terrific…super-reasonable prices.
The other night…dinner at Marola's "netted" me fried calamari,mozzarella fritta, penne alla vodka, veal parmigiana, zuppa di pesce, veal marsala. Now for the skinny—the food was delicious, the service was terrific and the prices were super-reasonable. For you Early Birders out there, like Fra Diavolo, Marola's has a deal— EVERY entree on the menu comes with soup or caesar salad, dessert and coffee.
As I mentioned before, I've eaten in Fra Diavolo quite a few times—based on memory and my very sensitive tastebuds, I'd "say" that Marola's food tastes just like Fra Diavolo's stuff. A cursory review of both menus, tells me that Fra Diavolo has a bigger menu but Marola's prices are a few bucks cheaper…for example Marola's veal marsala goes for $16.95 and Fra Diavollo fetches $19.95. For the inquisitive, you can check Fra Diavolo's menu/prices at www.fradiavolorestaurant.com.
Enough nitpicking…I really enjoyed Marola's.
You now know about Marola's and have been re-introduced to Fra Diavolo.
Marola's is open for dinner- Sunday, Tuesday-Thursady 4:30pm-10pm, Friday-Saturday 4:30pm-11pm, for lunch Tuesday -Friday 11:30am-3pm. The joint is closed on Monday.