Bagel Wit A Schmear (Boca Raton)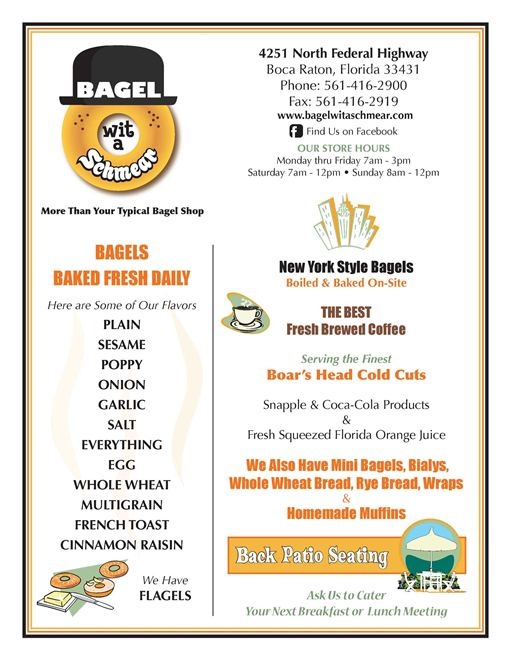 ***** Bagel Wit A Schmear, 4251 North Federal Highway, Boca Raton, Florida 33431, (561) 416-2900.
Can't believe I got done-in by a 10 year old kid last night. Was talking to this kid while waiting to pickup food and I asked him…"How many 4 cent stamps are there in a dozen?—and the kid says to me, "Is that a standard dozen or is that a baker's dozen?"
Got a really-good bagel-deli joint for you—Bagel Wit A Schmear in Boca Raton. Talk about the consummate hole in the wall—one "card table" for 4 and 8 window counter stool seats, a couple of display cases, open baking/prep area…that's the whole megillah—under construction, an outdoor patio that seats 16.
At this stage of the proceedings check www.bagelwitaschmear.com for menu/prices.
Bagel Wit A Schmear has been around for something like 1-year. It is owned/operated by husband/wife team, Jim & Patti Higgins—she runs the counter, he runs the back of the house.
Let's talk food.
The joint has 7,000 different types of bagels…which are "made" the correct way, that being boiled and then baked. A recent taste test had me "doing" an- everything, sesame, garlic, onion, pupernickel, cheese (asiago) and french toast. All of them were A-OK…special shout-out to the french toast bagel—toasted at home with a drop of butter and maple syrup, off the chart.
In addition to bagels, bialys, flagels…Bagels Wit A Schmear bakes its own breads and muffins. The joint's menu is loaded with various cream cheeses, breakfast dishes, salads, sandwiches, deli meats, soups. Just so you know, I "sampled" the chicken/tuna/whitefish salads—they were absolutely delicious.
Like I told you before, Bagel Wit A Schmear is a hole in the wall. There is very limited indoor seating…so don't plan on bringing grandma, grandpa, Aunt Rosie, Uncle Saul, your wife (or husband) and your 3 kids there tomorrow for Mother's Day. Then again—you could order stuff and eat at home.
You now know about a really good bagel-deli joint.
Bagel Wit A Schmear is open Monday-Saturday 7am-3pm and Sunday 7am-1pm.
One final note, a baker's dozen of bagels runs $9.50.