Dragon City Mandarin House Restaurant (Hollywood)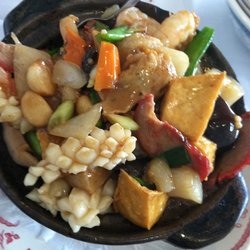 ***** Dragon City Mandarin House Restaurant, 6708 Stirling Road, Hollywood, Florida 33024, (954) 894-8393.
I love good "Brooklyn Jewish" Chinese food. Old Jeff Eats was born in Brooklyn (1949)—with that in mind… to me, a perfect Chinese meal includes dishes "like" wonton/egg drop combo soup, egg rolls, fried dumplings, bbq ribs, roast pork fried rice, sweet & sour pork, General Tso's chicken, lobster in black bean soup, pepper steak, pistachio ice cream, fortune cookie. Not really into—"real"-"authentic"-Chinese food like, jellyfish, eel, duck tongues, shark fins…Like I said, Brooklyn Jewish is my game.
The other night I had dinner at Dragon City in Hollywood. This joint has dynamite Brooklyn Jewish. It also has real-authentic stuff…so everyone can play here. Just so you know, Dragon's got TWO menus. One for us Brooklyn guys and one for–shall we say, the adventurous crowd.
If you are looking for fancy schmanzy forget about it. This is a neighborhood Chinese joint. It's kind of run-down looking…but don't be a-scared, the food–at least–the Brooklyn Jewish stuff was delicious. To be perfectly honest with you, I couldn't find even one-dish to bitch about. Sorry can't comment on the jellyfish or eel because…not my game.
This joint is a homerun.
I'm gonna assume that the "real-authentic" dishes are as good as the phony-Chinese stuff that I stuffed my face with.
Dragon City is open Monday-Friday 11am-3am, Saturday 11am-2am, Sunday noon-2am.