Beard Papa's (Aventura, Orlando)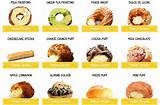 ***** Beard Papa's, 19501 Biscayne Boulevard (Aventura Mall), Aventura, Florida, 32771, (305) 682-8580.
Beard Papa's…last count 39 locations—fast food… "cream puffs, rice balls filled with ice cream, handful of other desserts. For right now, this small chain has 2 Florida locations, Aventura and Orlando.
You can check menu/prices/locations at www.muginohointl.com.
Not sure how long this "dessert" concept is gonna last…it sort of reminds me of the current cupcake and self-serve yogurt crazes making the rounds.
Anyway, stopped by the Aventura joint and tried chocolate and vanilla cream puffs—also had Japanese rice balls filled with vanilla and strawberry ice cream . DELICIOUS!
To be perfectly honest with you, old Jeff Eats found -Beard Pappa's to be a real nice change from the standard food court -bourbon chicken and Sbarro pizza.
Beard Papa's is open Monday-Saturday 10am-9:30pm and Sunday noon-8pm