Cafe De France (Delray Beach)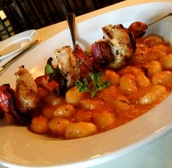 ***** Cafe De France, 110 East Atlantic Avenue, Delray Beach, Florida 33483, (561) 455-2140.
Got a really good–casual–reasonably priced French joint for you…Cafe De France in Delray Beach.
Yes! Your tee shirt/shorts/flip flop ensemble will work there.
Check www.110carpediem.com for menu/prices. There is both indoor and outdoor patio seating.
If "couponing" is your game, www.southfloridines.com -got a $15 gets you $30 deal going.
A recent dinner outing had me "sampling"…onion soup, chicken cordon bleu, duck a l'orange, braised lamb osso bucco, tilapia provencal. Let me make this brief- one of the best onion soups I've had in a very–very long time– absolutely loved the chicken cordon bleu, same for the duck.
This joint is a homerun.
Cafe De France is opened 7 days a week…9am-11am (breakfast), 11am-4:30pm (lunch), 4:30pm-11pm (dinner).