Yard House (Hallandale Beach, Palm Beach Gardens, Coral Gables)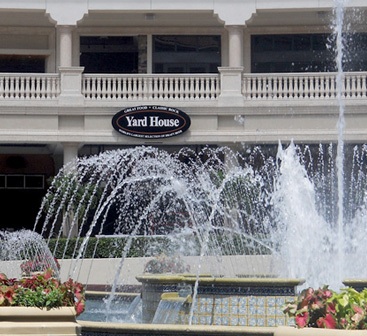 ***** Yard House, 601 Silks Run, Hallandale Beach, Florida 33009, (954) 454-9950.
Way back when–1/28/08, Jeff Eats did a writeup on an "American Style" joint, Yard House located in Palm Beach Gardens. Think- Cheesecake Factory, J Alexander's, Houston's…and you'll know exactly what this chain's game is all about. This chain's "gimmick"- its got something like 8,000,000 different beers. Since that 1/28/08 recommendation, I've eaten in the Palm Beach Gardens' location 3 times and twice in their Scottsdale, Arizona joint.
For right now, there are 3 Florida locations, Palm Beach Gardens, Coral Gables and Hallandale Beach–which I tried yesterday for lunch. At this stage of the review, you can check www.yardhouse.com for menu/other details.
Just so you know, the Hallandale-Yard House is located in The Village At Gulf Stream. The Village, is a large outdoor retail complex connected to the Gulfstream Racing & Casino "thing.". This complex has a number of restaurants, boutiques and chain operations such as The Container Store and Pier 1 Imports.
Not to bash The Village, but this is a train wreck waiting to happen. Yesterday afternoon, the track and casino were busy. The Yard House was packed both inside and outside on its dining patio…the rest of the complex was like a freaking ghost-town. Mark- Jeff Eats' words, this "center" hasn't got a chance in hell…the boutiques all look alike…the merchandise is repetitious…and- every Tom, Dick & Harry Mall in Florida has the same stuff. If The Village doesn't get a huge movie-complex in there and unique stuff, like an upscale bowling-night club and other retail businesses that aren't duplicates and clones…the whole joint is gonna collapse.
Now back to the Yard House. Let me make this simple, I love joints like this. Good burgers, fries, onion rings, mac & cheese, decent enough babyback ribs, tv sets, energetic waiters and waitresses, cool classic rock music (maybe a decibel or two-too high), reasonable prices, great looking dark-wood decor, large outdoor patio with tvs, consistency–all of my "outings" foodwise were real-good.
If you like "upscale" sports-bars…you are gonna love Yard House.
Yard House is open Sunday-Thursday 11am-12:30am and Friday-Saturday 11am-1:30pm.