Fusilli Ristorante (Coral Springs)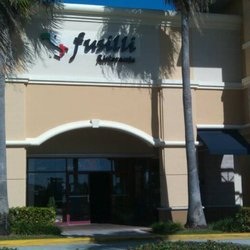 ***** Fusilli Ristorante, 9617 Westview Drive, Coral Springs, Florida 33076, (954) 344-0443.
It's joints like Fusilli, that year in and year out—destroy my New Year's resolution to lose weight. Here it is, not even 3 months into the new year and I gotta order some new Spanx tee shirts/briefs. But, you gotta do what you gotta do!
Fusilli Ristorante is a terrific–mom & pop–red sauce Italian joint in Coral Springs. Check www.fusillis.co/ for menu/prices/coupons/loads of pictures. The joint is owned by a guy named Joey Scarfuto (What did you expect, Heshey Glickman?)—take it from me, this guy knows how to run an Italian restaurant.
Now you guys know, or should know by now, that I've been in more South Florida Italian joints, than there are chins in a Chinese phonebook. With that in mind, let me tell you, that Fusilli is right up there with the best that I've hit during the past 20 years. Just so we are straight, although Fusilli may have white-tablecloths, your tee shirt/shorts/rhinestone flip flop ensemble is gonna work just fine, there. For you folks who are into soup or/salad–garlic rolls–entree–pasta deals, don't worry, Fusilli's menu is loaded with them. There are also early-bird specials and a Sunday buffet thing.
A few weeks ago, I did a lunch and dinner—First let me tell you, that Fusilli makes one of the best NY-style pizzas that I've had in a very-very long time. An extra large 18″-thin crusted/sweet sauce ran me 14 bucks. Like I just said, this pie was right up there with the 15-cent slices- I use to get on my way home from Erasmus Hall High School 1963-1966. On the dinner front I "did"—penne alla vodka ($15), zuppa de pesce ($26), chicken marsala ($16), veal parmigiana ($17), fettuccine alfredo ($13)…every dish was delicious. Special shoutout to, "$9 appetizer" 1-dozen garlic rolls stuffed with sausage and pepperoni.
Fusilli's is a winner. Terrific food, nice portions, pleasant service, great looking decor (look at the photos on its website), reasonable prices.
The joint is open Monday-Thursday 11am-9:30pm, Friday-Saturday 11am-11pm, Sunday noon-9pm.