Capriccio's Ristorante (Pembroke Pines)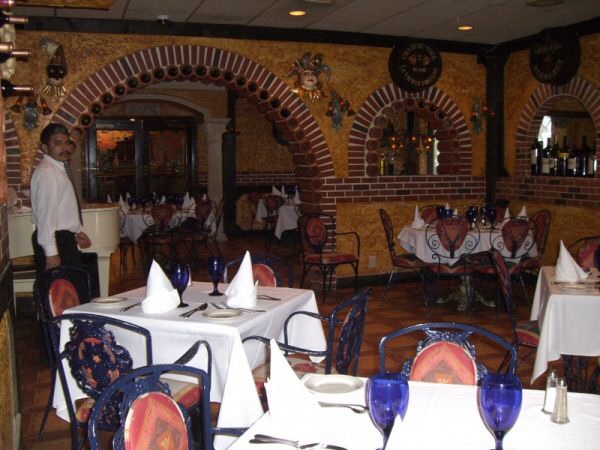 ***** Capriccio's Ristorante, 2424 North University Drive, Pembroke Pines, Florida 33024 (954) 432-7001.
Got a really-good "semi" upscale Italian joint for you —Capriccio's Ristorante in Pembroke Pines. Check www.capriccios.net for menu/prices—there are also loads of photos, so you'll know exactly what Capriccio's looks like. On that "semi" thing—white table-cloths etc., but, I think that your tee shirt/shorts ensemble can sneak by… I definitely wouldn't temp the fates on a Saturday night, with rhinestone studded flip-flops.
I'm figuring, you haven't-just yet, gone to the above referenced website. So, you don't know, that Capriccio's isn't your standard "mom & pop" neighborhood red-sauce joint—as a matter of fact, there isn't a pizza, calzone, or stromboli to be found anywhere on its premises. You also don't know, that its got a full bar, piano player every night and some guy with a violin Wednesday-Saturday.
Let's talk food… A recent dinner had me "doing"—fried calamari (appetizer $11), linguini & clams in a white sauce ($22), rollatini di pollo valdastano (that's a stuffed chicken breast- $22), cheese lasagna ($19), double cut pork chop ($25)—everything and I do mean everything, was delicious. Just so you know, meat/chicken/seafood entrees come with salad/pasta side.
Like I said before, this isn't a "mom & pop" red sauce Italian joint.
Now, I love the pizza joints of this world as much as the next guy…Capriccio's did a great job in reminding Jeff Eats, that really good Italian stuff- doesn't have to be drenched in marinara sauce or wrapped in a pizza dough pocket.
I really enjoyed Capriccio's.
The joint is open 7 days a week 5pm-11:30 pm.