Boca's Best Pizza Bar (Boca Raton)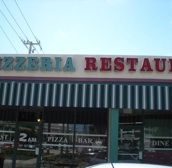 ***** Boca's Best Pizza Bar, 119 West Palmetto Park Road, Boca Raton, Florida 33432, (561) 367-7227.
Boca's Best Pizza Bar is a "mom & pop" red sauce Italian joint located in Boca Raton. The joint has been around for about 18 months…it was previously a Big Louie's (see 7/23/08). Why small-chain Big Louie's didn't make it there, is anyone's guess.
Boca's Best Pizza Bar is located in a small-dumpy strip center right near the railroad tracks. Parking isn't anything to write home about. With that outside-out of the way, let me tell you, that this little "Best" (always skeptical when BEST is used in the name) joint surprised the hell out of me…it really serves some real-good food.
A recent dinner had me "sampling"—pizza, penne alla vodka, chicken marsala, chicken parmigiana, meat lasagna, eggplant rollatini. At this stage of the gig, you can check www.bocasbestpizzabar.com for menu/prices.
Boca's Best is what Jeff Eats calls a hidden gem—definitely a notch or two above the typical mom & pop pizza joint. The joint is open Monday-Saturday 11am-2am and Sunday noon-midnight.