Bernie's Bagels, Deli & Cafe (Coral Springs)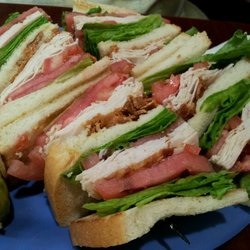 ***** Bernie's Bagels, Deli & Cafe, 1420 Coral Ridge Drive, Coral Springs, Florida 33071, (954) 340-7730.
Got a real good bagel-deli joint for you Coral Springsians—Bernie's Bagels, Deli & Cafe. Check www.berniesbagels.net for menu/prices/photos.
Bernie's is open 7 days a week 6:30am-3pm and Tuesday-Thursday 4pm-9pm.
Bernie's menu is loaded with breakfast stuff, salads, sandwiches, wraps…the joint makes its own bagels.
I recently did 1-breakfast and 1 lunch at Bernie's. "Sampling" included, western omelete (8.95)–challah french toast ($6.95)–corned beef on rye ($9.95)–pastrami on rye ($9.95)–tuna salad on onion bagel ($8.95)…like I said before, this is a "real good" bagel-deli joint.
To sum this one up, Bernie's definitely gets the job. If bagel-delis are your "game"—you'll like Bernie's.