Hobo's Gourmet Kitchen (North Palm Beach)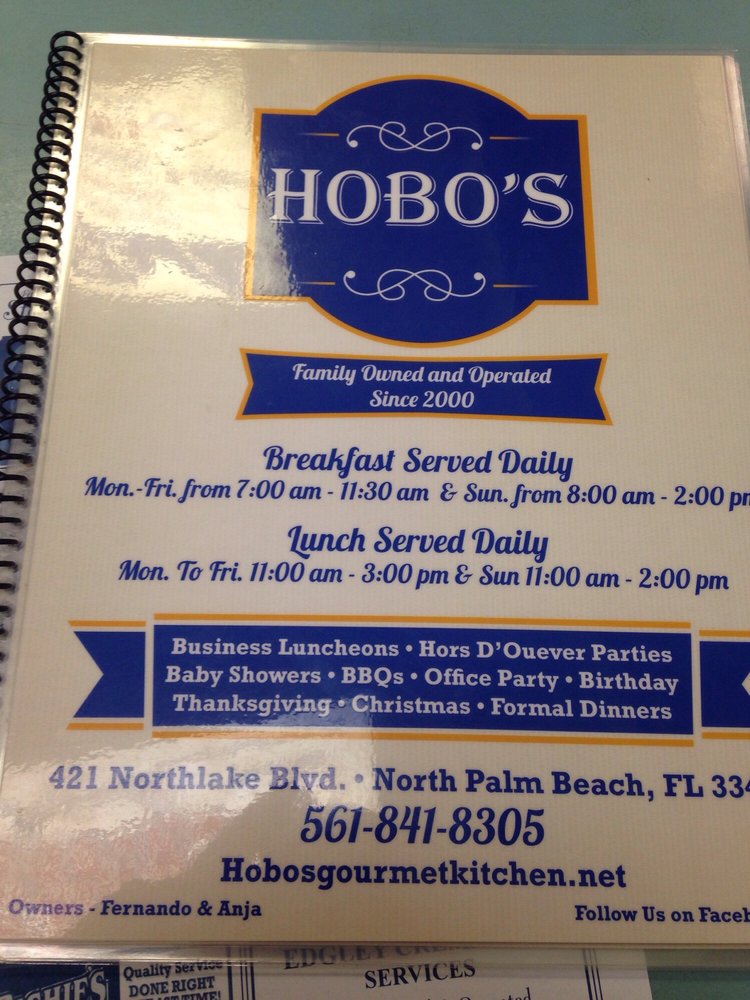 ***** Hobo's Gourmet Kitchen, 421 Northlake Boulevard, North Palm Beach, Florida 33408, (561) 841-8305.
Let's call Hobo's a "neighborhood" diner…the joint has been around for something like 11 years. Check www.hobosgourmetkitchen.net for menu/prices. Table seating for about 100 and a small counter that handles 6.
Absolutely-nothing fancy going on here…as a matter of fact, absolutely-nothing gourmet going on here, either. That said, this is exactly the type of joint that old Jeff Eats loves to eat in. Think "short order" and you got Hobo's number…loads of breakfast stuff, salads, grilled burgers, sandwiches—throw in a $7.95 "all you can eat" salad bar-and-for an extra buck-you can slurp all of the soup that you'd like.
Just so you know, I have eaten 2x at Hobo's and have yet to see anyone wearing a tuxedo or for that matter a gown (nowadays gotta be politically correct), then again 1-meal was breakfast and 1-meal was lunch, so that may-be why? Really-good 1/2 lb cheeseburger/fries ($7)–grilled reuben/fries ($7.95)–western omelet ($5.95).
Like I said before, I got a special "place in the heart" for the Hobo's of the world. It's joints like this, that make eating out a worthwhile endeavor.
If you like diner-food, you'll love Hobo's.
Go figure!!…Hobo's is open Monday-Friday 7am-3pm and Sunday 8am-2pm. The joint is closed on Saturday, like I said, Go Figure!