Pinon Grill (Boca Raton)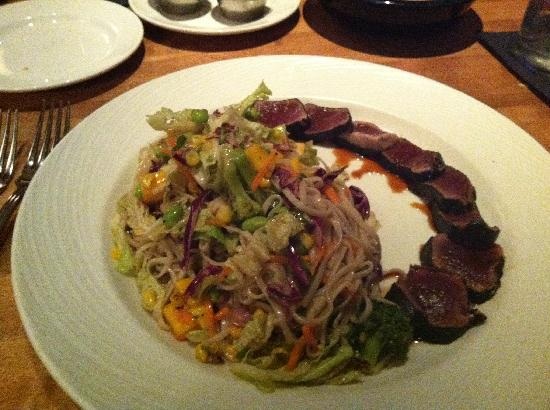 ***** Pinon Grill, 6000 Glades Road, Boca Raton, Florida 33433, (561) 391-7770.
Got a terrific "American" semi-upscale joint for you…Pinon Grill in Boca Raton. Pinon is a newcomer to Boca in that it has only been around for 3-months. From what I have heard, since day-one, the joint which seats 303 (there is indoor and out door patio seating) has been packed every day for lunch and dinner. Based on last night's dinner—I'm gonna bet, that Pinon isn't simply the " Boca flavor of the month"—and is going to have some real staying power.
At this stage of the game, check www.pinongrill.com for menu/prices—there are also a handful of photos that will give you some idea as to what Pinon's decor is all about. Since old Jeff Eats isn't an interior decorator, let's say that Pinon looks like a real upscale Houston's, hope that helps you out. By the way, I called the joint "semi-upscale"—but your tee shirt/shorts ensemble will work here—that said, last night from 7:45-8:30pm, I didn't happen to notice any such ensembles.
Now, let's talk food. The menu isn't exactly huge, but the 6 appetizers, 2 soups, 8 salads, 13 entrees, 6 sandwiches that I counted seem to cover all of the 5 major food groups I learned about at Brooklyn's P.S. 179. Last night's "sampling"– lobster & crab ceviche ($16), shrimp spring roll ($12), baby back ribs (full rack $24), crab cakes ($25), chicken paillard ($18), pecan crusted trout ($22) was just right. I enjoyed every dish–with the ribs having one of the best sauces, that I've had in a very long time.. If you need a complaint, the ribs weren't the "meatiest" that I've met in my day…they definitely could be beefed-up (or is it porked up?).
Before I wrap this one up…just wanted to mention, that the service was excellent. Our party of four had Steve "the waiter" who knew Pino's menu cold—and made sure that water/drink glasses were never even close to being empty. I was also impressed by "service manager" Adam who when not visiting tables, was pitching in as a backup bus-person. It's guys like this (or lack of), who in the long run-can make or break a joint.
If you are a fan of joints like Houston's, J. Alexander's, J. Marks—I think that you will really enjoy Pinon.
Pinon Grill is open Sunday-Thursday 11:30am-10pm and Friday-Saturday 11:30am-11pm.