Dragon Gourmet Buffet (Plantation)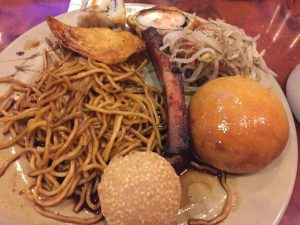 ***** Dragon Gourmet Buffet, 1091 South University Drive, Plantation, Florida 33324, (954) 423-8088.
The "name" may throw you off…the words "Chinese"–"Japanese"–"Asian"–"Fusion" are nowhere to be found. So there is no confusion, Dragon Gourmet is a Chinese-Japanese-Asian-Fusion buffet-joint in Plantation.
This one is a KEEPER. Clean…good food…huge and I do mean HUGE selection of stuff (didn't count– its website says that there are 200 different items)…very reasonable prices, figure max 16 bucks a head (it all depends when you get there). You can check menu/prices/photos at www.dragongourmetbuffet.com.
Over the past few months, I've done 1-dinner and 2-lunches…the food was consistently good. On all of the "outings"…Dragon was busy and the food was constantly turned-over, which is IMPORTANT when you are talking buffet. Just think of what freshly made fried chicken tastes like after its sat in a heated steamed "chafing" dish for 45 minutes or so (but that"s a Golden Corral story for a whole-nother day).
To be perfectly honest with you, Jeff Eats is a big-fan of buffets. Can't remember, the last one that I didn't enjoy. May need a psychiatrist to figure this one out, but just looking at mounds and mounds of food just-sitting-there-for-the-taking, gets me going.
If you are a fan of Chinese-Japanese buffets, I think that you will really like this one. Special shout-out to the General Tso's chicken, pan fried dumplings, egg rolls, sweet and sour chicken.
Dragon is open Monday-Thursday 11am-10pm, Friday-Saturday 11am-11pm, Sunday 11am-9:30pm.