California Burgers & Shakes (Fort Lauderdale)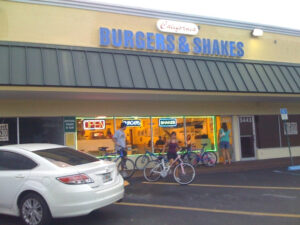 ***** California Burgers & Shakes, 5441 North Federal Highway, Fort Lauderdale, Florida 33308, (954) 533-4679.
California Burgers & Shakes—fast food hamburgers/fries/hot dogs/shakes/handful of other stuff (so the non-meat eating members of the family won't be pissed.)
The double charbroiled cheeseburger ($4.49)– handcut fries ($1.99)–banana shake ($2.99)–chocolate shake ($2.99) were all delicious. Mom & Pop decor, that makes Five Guys' interior look like the Taj Mahal. I liked the whole "neighborhood" vibe. Nice change from the sterile-cookie cutter models floating around South Florida…not even one peanut in sight.
You can check menu/prices at www.californiaburgersandshakes.com.
The joint is open Sunday-Thursday 11am-9pm, Friday-Saturday 11am-10pm.