***** The Critters *****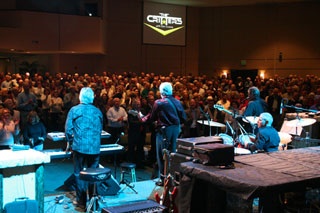 ***** The Crittters *****
Regular Jeff Eats' readers know, or should know by now, that I love 1950s-1960s Rock N' Roll music. I am also a huge fan of 1970s Disco music. Whenever I come across a terrific "cover band" down here in South Florida, I like to give you a heads-up about them and where you can see them in action.
Last night, the Woodfield Country Club in Boca Raton had a terrific event in its Clubhouse O'Bar…from 6:30pm-9:30pm a crowd of about 250 was treated to the sounds of The Critters. Simply put, this was one of the best 1950s-2011 cover bands that I have ever seen. Of note, The Critters in the 1960s had three Billboard charters "Mr. Dieingly Sad"–"Younger Girl"–"Don't Let The Rain Fall Down On Me." Not only did this 4 peice band do dead on "versions" of their own hit records, but absolutely killed-it with Motown-Disco–and stuff right up to 2011. Another thing that impressed me, was that the band took one 10 minute break during the entire 3 hour performance.
As I mentioned, I saw The Critters at a private event—only members and their invited guests. Now for the good news, The Critters who are based out of Port St. Lucie have a very active "public" schedule. If you check their website www.thecrittersband.com you can catch some video/history/performance dates-locations. A fast-look at their February public schedule has them in Stuart, Port St. Lucie, Port Salerno, Jensen Beach, Fort Pierce.
Do yourself a favor—Plan on spending an evening with The Critters…they really are that good.