Ireland's Steakhouse (Weston)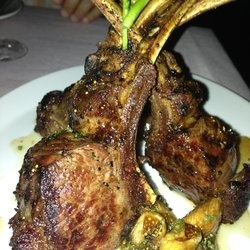 ***** Ireland's Steakhouse, 250 Racquet Club Road, Weston, Florida 33326, (954) 349-5656.
Go figure…one of South Florida's best "upscale" steak-seafood restaurants—Ireland's Steakhouse is located in the Hyatt Regency Bonaventura Conference Center & Spa. Not exactly, Macy's in Herald Square!
Like its "brethern"…Ireland's ain't a cheap date. You can check menu/prices at www.bonaventure.hyatt.com.
A recent outing had me "sampling"—20 oz. bone-in-ribeye ($48), petite filet mignon ($37), seared yellow tail snapper ($37), potatoes au gratin ($9), sauteed mushrooms ($9), creamed spinach ($9). Hey! I told you, this wasn't a cheap date–that said, everything was absolutely delicious.
Delicious food. Modern upscale decor… A really beautiful thing, the staff is as pleasant and professional as can be. Nobody and I do mean not-a-one, has a "know it all" attitude.
Ireland's is hidden in a "resort"…I am telling you, it's as good as the "best" that's out there.
The joint is open Tuesday-Saturday 5:30pm-10:30pm.