Bud's Chicken & Seafood (North Palm Beach, Boynton Beach, Greenacres, West Palm Beach, Royal Palm Beach)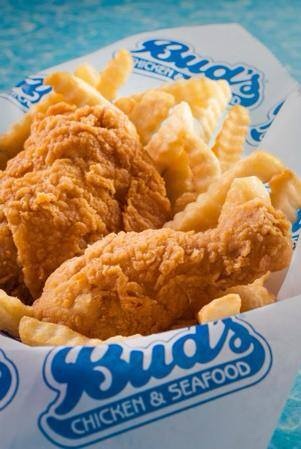 ***** Bud's Chicken & Seafood, 509 East Boynton Beach Boulevard, Boynton Beach, Florida 33435, (561) 732-3618.
Bud's Chicken & Seafood has been around since 1957. There are currently 7 locations in South Florida.
Let's make this one short and real simple…If you change Bud's name to BUD'S FRIED CHICKEN & FRIED SEAFOOD, you'll know- exactly what old Bud's is all-about.
Amazingly- delicious fried chicken and fried seafood items. For sure, they have a handful of salads, bbq ribs and non-fried stuff…but the game here–fried chicken, fried shrimp and fried corn fritters…just what the old cardiologist ordered. Throw in super reasonable prices, shorts/tee shirt friendly decor, super pleasant staff…and you got a huge winner.
Like I said before, there are currently 7 locations. You can check menu/prices/locations at www.budschicken.com.
Bud's is open 7 days a week 10:30am-9pm