Spanky's Cheesesteak Factory (Margate)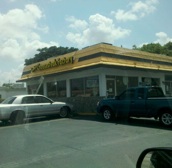 ***** Spanky's Cheesesteak Factory, 309 North State Road 7, Margate, Florida 33063 (954) 973-2170.
Every time I drive by Spanky's Cheesesteak Factory I ask myself…Who came first, The Cheesecake Factory or The Cheesesteak Factory?
Spanky's is located in a "dumpy" (what else?) freestanding building. The joint has a menu loaded with fast-food… hot/cold subs, sandwiches, burgers, hot dogs, wings. Inside seating and a handful of seats outside.
Over the years, I must have eaten in Spanky's something like 15 times. They make a delicious philly cheesesteak sub. That said, Spanky's spicey fried chicken sandwich with blue cheese on a kaiser roll is something that you gotta try…The joint also has some of the best sweet potato fries going.
For sure, Spanky's Cheesesteak is a cardiologist's nightmare. Now, we all know that you only go-round once, so I'm also going to recommend, their onion rings, fried shrimp and sweet fried corn nuggets.
Jeff Eats has to rate Spanky's as one of the best "fast-food" joints in South Florida….Spanky's manages to do "everything" just right.
Spanky's is open Monday-Thursday, Saturday 11am-10pm, Friday 11am-11pm, Sunday noon-9pm.