Two Guys Pizzeria (Miami)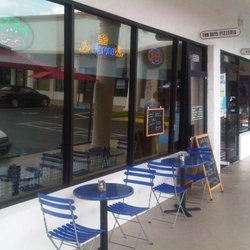 ***** Two Guys Pizzeria, 9515 South Dixie Highway, Miami, Florida 33156 (305) 667-1761.
Two Guys Pizzeria is a " neighborhood-mom & pop–red sauce" Italian joint.
Let me make this one short and simple, Two Guys Pizzeria food is decent enough…that said, the odds are, your favorite "momma & poppa" has better stuff. Now don't get me wrong, the thin crusted pizza, veal parmigiana, garlic rolls, baked ziti, meat lasagna were just fine…but nothing reached "boy, that was delicious" status.
Two Guys is open 7 days a week for lunch and dinner.