Philly Steak Sub Shop (Miramar)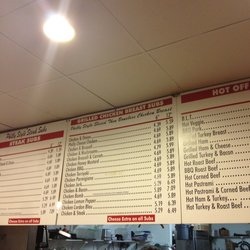 ***** Philly Steak Sub Shop, 6025 Miramar Parkway, Miramar, Florida 33023, (954) 964-8686.
Let's start the month of December off with…Philly Steak Sub Shop located in Miramar.
Was down to Philly Steak Sub a couple of days ago and I gotta tell you that this joint makes some dynamite 6″ and 12″ subs…if I counted correctly, Philly Steak Subs has something like 89 different subs on its menu—they also have a half-dozen or so salads, for you non-sub lovers out there. I was just thinking, that if some of the subs were combined with some of the other subs, that 89 could be something like 1,000,000…but math was never one of my strong suits.
Just so you know, there were 3 (including Jeff Eats) on this taste-test mission…don't want you guys to get the impression that old Jeff Eats devoured 8–6 inchers all by his lonesome. Included in the "sampling"…philly cheese steak, chicken parmigiana, hot pastrami, honey mustard chicken breast, chicken salad, tuna salad, bbq pork, bacon cheeseburger. To be perfectly honest with you, I really couldn't pick a "favorite" because all of the subs were really-good.
Philly Steak Sub Shop is a winner. Delicious sub bread, terrific fillings, super prices—figure, the most you are gonna spring for is 7 bucks or so for a 12-incher.
Philly Steak Sub Shop is open Monday 9am-9pm and Sunday 10am-8pm.